There are different types of keyboards in the market but we will be talking about Best Gaming Keyboard for PC/Laptop available for 2023-05-07.
  Best Gaming Keyboard for PC/Laptop  
a. Roccat Vulcan 120 Aimo
b. Alienware Pro Gaming Keyboard AW768
c. Cooler Master MasterSet MS120
d. Corsair K95 RGB Platinum
e. Havit Low Profile Mechanical Keyboard
f. Razer Huntsman Tournament Edition
g. SteelSeries Apex 3
h. Razer Cynosa V2
Starting at number 1 we have,
  Steel Series Apex PRO  
The dimensions of this keyboard are 5.5 x17.2 x 1.6 inches and its weight is nearly 4.41 pounds. This SteelSeries keyboard comes in at the top of our Article because of its great features and excellent build quality.
The APEX Pro has a five times faster actuation speed and an eight times faster response time than other competitive keyboards. You can adjust the magnetic sensors to be as low as 0.4mm, giving you insanely fast and feather-light actuation. The Omni Point switches are not the same as your traditional fixed actuation switches. The Omni Point ones can be adjusted to register from 0.4mm to 3.6mm.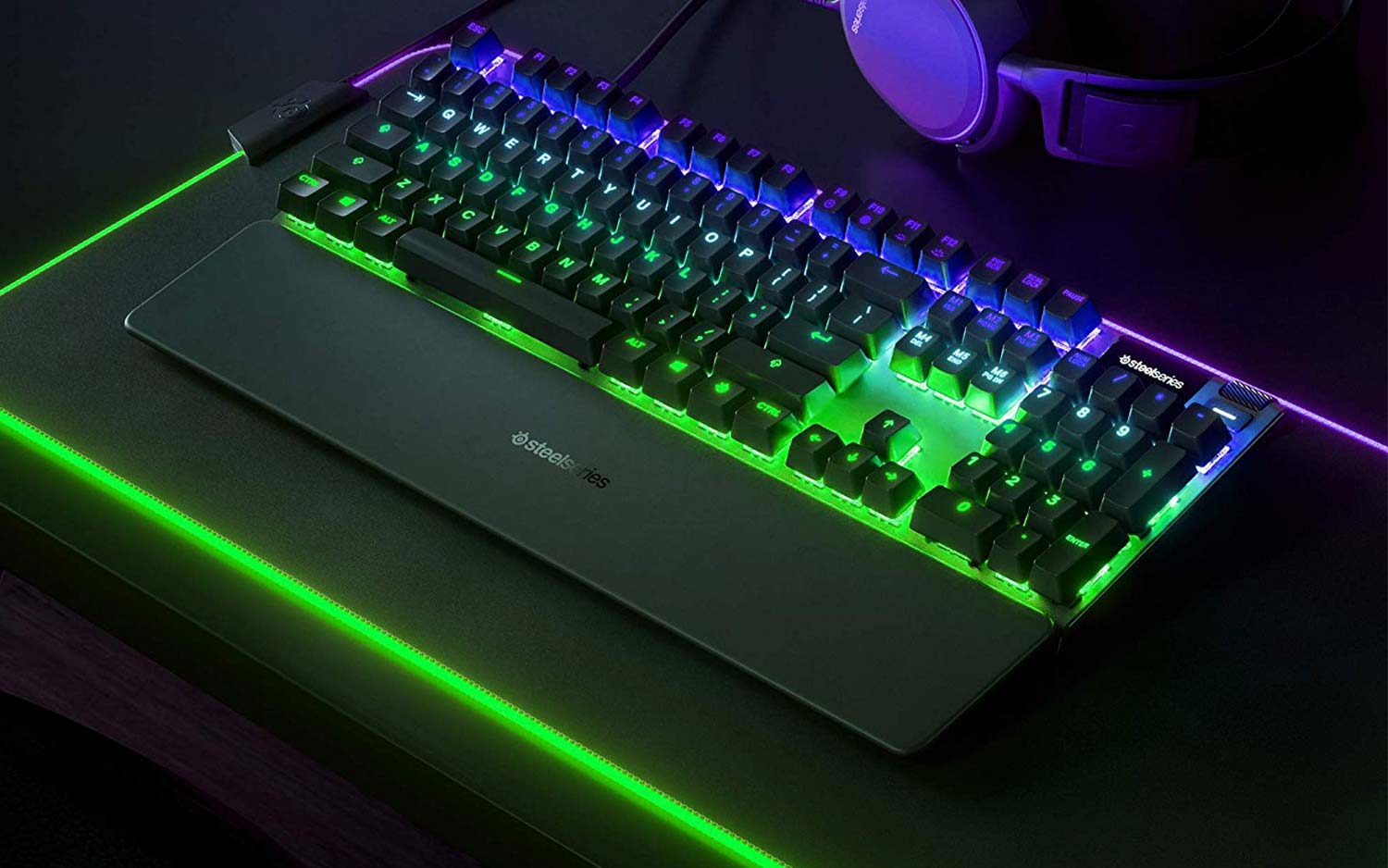 This allows you to customize the APEX Pro to suit your typing style and to give you better performance across a wide range of games.
The durability of this SteelSeries beast is something that stands out. It supports 100 million keypresses, which far surpasses other competing keyboards. As there are no points of direct physical contact between the switches, it permits much longer use and less degradation.
Another cool little feature is the OLED smart display above the Numpad. This allows you to keep track of small pieces of information such as your music playing, discord information, or some in-game notifications, saving you time from alt-tabbing out.
The customizability of this keyboard has been a theme throughout and it's something we really love. The APEX Pro gives you 5 unique profile settings that can be saved onto the keyboard, requiring no software. This is great for tournaments, as the data is stored locally and only requires you to plug and play.
The settings which you can save are the actuation distance, RGB colors on keys, and more. Some gamers like a wrist rest whilst others prefer not to have one. With this keyboard, you can stick and detach the wrist rest easily with a help of a magnetic attachment.
This again permits you to change the keyboard for how you like it and gives you the choice on how you game. Some cool extra features that we'll make a quick note of are the multimedia controls, which allow you to adjust volume and settings easily, alongside being able to change the brightness, skip songs, rewind, pause and more very easily.
The APEX Pro also has a unique passthrough port and cable to reduce clutter on your desk. You can plug a USB cable into one side of the keyboard and choose where it exists.
Overall we think the SteelSeries APEX Pro is the best gaming keyboard on the market hands down. No other keyboard gives you this much customizability and no other keyboard is built with as high a standard. We rated the Apex PRO a 5 out of 5 stars.
At number 2 we have,
  Corsair K95 RGB PlatinumXT  
The dimensions of this keyboard are 18.3 x6.7 x 1.4 inches and it weighs around 4.85 pounds. The K95 Platinum has been around for years, but this newly released XT model brings some new software upgrades as well as support for the Elgato stream deck.
Other than that, from a visual perspective, you get a new wrist rest and some new keycaps but most of the other changes are inside. The K95 features per-key RGB lighting which provides you with individual lighting options that you can choose from for each key.
Personally, I don't have too much time to configure each key so I just use one of the standard lighting options, but I'm sure there are some of you out there that like to mess around with that stuff.
The new keycaps are precision-molded and are5mm thick. They are built to resist wear, fading, and shine. You can use these keycaps for years and won't notice any difference at all. On the left side of the keyboard, you'll see the 6 different macro keys. These are fully programmable and can be made to store complex macros and key remaps.
You can also switch these out for special streaming commands through the Elgato Stream deck software. When it comes to the switches you can choose to go with Blue, Brown, or Silver. I prefer the silvers as these provide ultra-fast2mm actuation and are reliable for up to 100 million keystrokes.
A big upgrade for this keyboard is the wrist rest, it's now much more comfortable and has some extra padding. I think several people including me hated the previous wrist rest on the older model of this keyboard, so this change is welcomed. The software included with the K95 is the Corsair iCUE software.
This allows you to have vivid dynamic RGB lighting control, macro programming, and full lighting synchronization that can be paired with other Corsair peripherals.
Overall, we have to say this is an amazing keyboard. The older model has proven that the K95 has survived the test of time and these new extra upgrades keep this keyboard as one of the best gaming keyboards of 2020. It gets the 2nd spot in our video and we rate it 5 out of 5 stars just like our first pick.
At number 3 we have,
  Logitech G Pro X  
The dimensions of the G Pro X are 36 x 15x 3 cm and it weighs around 980 grams. Before we break down this keyboard, just note that this keyboard is specifically designed for professional gamers and this keyboard is built to be compact whilst packing a serious punch.
The G Pro X features 3 different types of switches, Red, Brown, and Blue. You can choose between them and find which one suits your play style, all have various actuation distances and the mechanical switches can be easily swapped out.
The keyboard comes with a detachable cable of 1.8m in length, this helps you travel around with the keyboard and pack it up easily. The G Pro X has a 1ms reporting rate which is extremely low. The F1-12 keys along the top of the keyboard are all programmable.
This can help you program timed actions or commands. The Logitech Lightsync RGB system can sync with your teammates or attach to the game you're playing, by supporting over 300 top games your keyboard can react to actions in the game.
The keyboard comes with rubber feet and a three-step angle adjustment so you can customize the positioning of the keyboard to suit you best. The tenkeyless design gives more room to each gamer and allows extra space for mouse movement. This is especially important in FPS games where mouse space is critical. It also allows the keyboard to be packed away easily and taken all over the world.
One downside to this keyboard that has been reported quite a few times is that several keys can't keep up with the RGB and that some keys die for no reason. This doesn't always happen but we've seen several people report this, although it's not a game-breaking feature of the keyboard, some people enjoy their lighting systems and it can be a deal-breaker for a few.
Overall, we put this keyboard 3rd in our video, it's targeted to the hardcore gamer crowd and more specifically tournament professionals, but casual gamers can use it too. It's great for travel and extremely compact, we'd give it a 4.5-star rating.
At number 4 we have,
  Alienware AW510k  
The dimensions of this keyboard are 19.9 x8.9 x 2 inches and it weighs around 2.95 pounds. This keyboard is great for stealth gamers.
The AW510k isn't intended to be one of those loud clicky keyboards, but instead a stealth and low-profile gaming keyboard that won't wake up everyone with its loud mechanical key presses.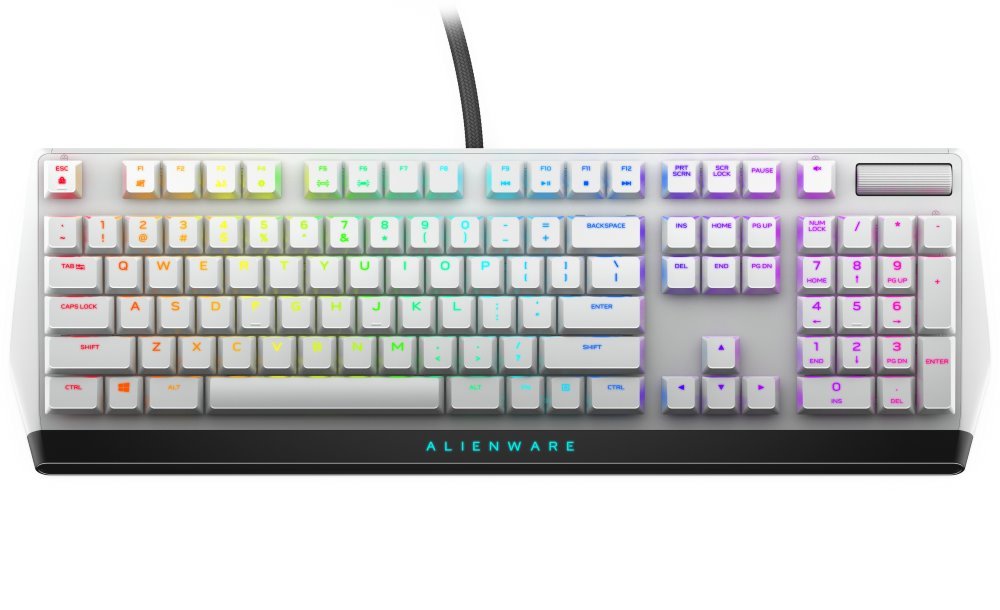 By using Cherry MX Red switches, the keyboard can stay quiet but still give you control and smooth triggering of each key you press. The AW510k does come with a fully customizable per-key RGB lighting system, this allows you to pick between 16.8 million colors and each key can be colored to your preference.
Compared to other Alienware or even standard gaming keyboards this one is much slimmer and has some enhanced ergonomics to give a nice sleek and comfortable design.
The build is made from durable 5000 series aluminum, making this keyboard last you for ages and you won't have to worry about durability or when you'll need to replace it. A cool feature that some of the other keyboards we covered have is an integrated USB pass-through feature.
This allows you to reduce table clutter and annoying cables all over the place. On the right-hand side is a simple audio controller, you can adjust the sound by rolling it up or down. The keys are built to withstand 50 million keystrokes, a little less than other keyboards we covered but still more than enough. The AW510k also has anti-ghosting features although we probably shouldn't even mention that in 2020 as nearly every keyboard has that.
Overall, we think this is a great low-profile keyboard that does as advertised. Alienware isn't really known for its keyboards, but the AW510k is one of the better ones they've made. We put this 4th in our video and give it 4stars.
And at number 5 we have,
  Redragon K552  
The dimensions for this product are 35.4 x12.3 x 3.7 cm and around 898 grams in weight. Be warned this keyboard is only here as our budget-friendly option and compared to our other 4 picks it struggles to compete, but again we put it in our video to have one keyboard that is priced for those on a very tight budget.
The K552 is a great keyboard for the price, it's a mechanical keyboard that has a tenkeyless design. Built to be compact and easy to transport, it's a great keyboard for taking with you while you're away or as a backup.
The keyboard comes with custom switches which are said to be equivalent to Cherry MX Blues. These are designed for greater durability and responsiveness.
The sound is quite loud and you definitely feel some resistance compared to other keyboards, but it's balanced well and any mechanical keyboard lover will enjoy using the K552. The switches are tested for up to 50 million keystrokes which are great for a keyboard that costs less than a large pizza. The K552 comes with anti-ghosting features and the design has a non-slip ergonomic splash-proof build. There isn't too much more to say about theRedRagon K552, it's just great for any budget gamer and gives you all the simple features you need from a gaming keyboard.
Overall, we give the K552 a 3-star rating and put it 5th in our video, but just because our rating is lower, doesn't mean that the keyboard isn't amazing value for money. If you need a good travel keyboard or something to take with you to a LAN, then we highly recommend checking this out. So that sums up the top gaming keyboards.
This was for the Best Gaming Keyboard for PC Laptop.
---
Read More: Best Gaming Headset For PC Laptop
Read More: Best Gaming Mouse For PC Laptop