Do you want to Buy UC in PUBG Mobile India Version games or games from Play Store or want to make some in-app purchases?. For example, pubg Royal pass or COC gems.
And whenever you entered your debit card for the transaction then Google Play Store shows some error and doesn't accept your card. So why this happened and what can you do if this happened to you So in this article.
I will teach you how you can complete your transaction with Any debit card or without any credit card. I will explain to you everything in an easy way.
And also I will show you how you can buy the pubg royal pass. To show that this is actually working, So basically you have to use the Paytm app Freecharge app if you are from India basically can use any kind of digital wallet app for this trick Ok so let's begin the video And I will completely guide you step by step.
  Debit card Error Solution:  
Debit card error may happen to any kind of domestic debit card Now let me clarify why this happens the fact is very simple If you are using a domestic debit or ATM card. Because it is a domestic card And domestic means it will only work for your country. And Google is basically an international brand. If you want to make any online purchase with Google, You will need an international debit or credit card. So that's why the error happens on the domestic debit cards.
And we can't buy anything from Google online. For example, if you want to use a Rupay card on a Google transaction it will not happen. So was I hope that thing is clear for you now.
  Buy UC in PUBG Mobile India Version  
Now let's talk about the next day what should we do Simply have to purchase a Google Play gift card. I will guide you through the steps And if you buy the gift card from Paytm you also have another plus point. That you can generate a gift card of a random amount Where I am going to buy a gift card of 510 rupees. But if you search on the market you will only find 500 rupees or a Thousand rupees gift card only And here is my Google opinion rewards Word Google gives you money for free on some surveys.
  Paytm Redeem  
Now let's head towards the Paytm app,
Here you can see your Google Play option If you can't see it on your home screen go to more. Now I am going to buy your recharge code of 510 rupees And if you have any promo code of cashback you can apply that.
And if you're willing to buy a pubg Royale pass Make sure to buy from Paytm because Before 10th March 2019.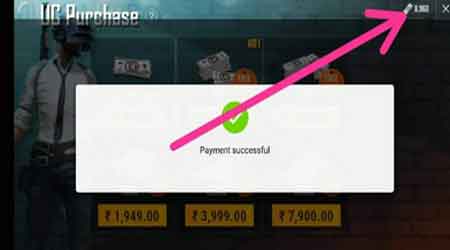 If you buy your recharge code from Paytm And purchase PUBG Royale pass then, You will get some extra gift as In-game items Paytm are best for that now my recharge is almost done. Now it's showing processing and now it's done.
Now it will give me a gift code wait for 2 mins then they will send the same code on my mail. I will simply copy that code from there and after that now go to your play store now click on the 3 lines on the left corner.
After that click on payment methods then you can see an option of redeem code click redeem gift card paste your code and click redeem it may take 5 to 6 secs then.
  PUBG Mobile India RP  
Click confirm now the money will be added to your google play balance now as you can see previously i have 297 rupees now. I have 807 rupees now you can use the play balance anywhere with simply one click you can purchase any app from the play store purchase games or make an in-app purchase though. I'm going to buy a pubg royal pass with it so guys this step is very easy and by following this step you can purchase anything from the google play store with any debit card or without any card.
Read More: Fau-g-game
Read More: Wrestling-games-for-android