Nepal Super League Teams   
The auction of players of the franchise football tournament 'Nepal Super League', which is being organized for the first time in Nepal, has come to an end. Eight players have been contracted at the highest price from the action organized by Nepal Sports Management on Friday. Sujal Shrestha, Deep Karki, Dinesh Rajbanshi, Vikas Khawas, Eric Bista, Tej Tamang, Sunil Bal, and Vishal Sunuwar are among the players who will be contacted at the highest prices.
Midfielder Sujal and goalkeeper Deep Pokhara have signed for Thunders. Defender Vikas Khawas and goalkeeper Vishal FC Chitwan have signed contracts while Tej has signed with Kathmandu Razors. Similarly, defender Dinesh Dhangadhi FC and midfielder Eric Bista signed for Lalitpur City. They are in the 'A' category and have been contracted for a maximum price of Rs 200,000.
A total of 149 players were included in the action. There were 28 players in 'A' category, 63 in 'B' category, and 58 in 'C' category. There are 7 franchise teams participating in the league which is going to be held for the first time. The league, which will be held at Dasharath Stadium in Tripureshwor, will be held from April 23 to 25. Nepal Super League Teams will help to boost the player's Performance.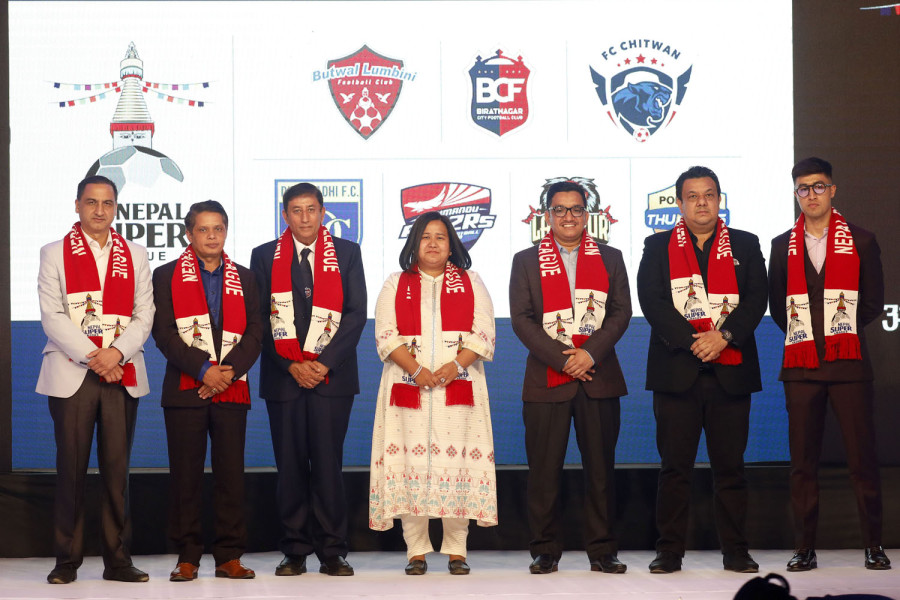 Teams and Players  
Kathmandu Razors Football Club
Tej Tamang (2 lakh – lucky draw)
Forward Vishwas Shrestha (120,000)
Midfielder Trideb Gurung (1 lakh)
Midfielder Sanjog Gurung (1 lakh)
Ashish Gurung (70 thousand)
Defender Vimal Pandey (75,000)
Defender Sudip Sikhrakar (50 thousand)
Goalkeeper Vinay Shrestha (50 thousand)
Defender Rajan Gurung (50 thousand)
Midfielder Ramesh Bartaila (60 thousand)
Defender Prithvi Chaudhary (20 thousand)
Defender Anjan Rai (20 thousand)
Forward Sudil Rai (65 thousand)
  Lalitpur City Football Club  
Midfielder Eric Vishta (2 lakhs)
Midfielder Mikchen Tamang (120,000 – lucky draw)
Farwad Vimal Rana Magar (1 lakh 20 thousand)
Defender Pravesh Danuwar (120,000 – Lucky Draw)
Defender Kamal Shrestha (120,000)
Goalkeeper Arpan Karki (1 lakh)
Forward Navin Lama (75,000)
Defender Niraj Basnet (75,000)
Forward Ranjan Vishta (50 thousand)
Vinod Gurung (20 thousand)
Goalkeeper Rohit Karki (20 thousand)
Defender Sharoz Yonjan Lama (20,000)
  Biratnagar City Football Club  
Vishal Sunuwar (2 lakhs)
Sunil Bal (2 lakhs)
Defender Vijay Dhimal (120,000 – lucky draw)
Saroj Dahal (1 lakh)
Bikram Dhimal (75 thousand)
Kishor Giri (65 thousand)
Midfielder Suraj Jiu Thakuri (60 thousand)
Shok Thapa (50 thousand)
Goalkeeper Surya Adhikari (75 thousand)
Midfielder Santosh Tamang (1 lag)
Midfielder Hem Tamang (120,000)
Midfielder Sunil Lama (20 thousand)
Midfielder Sunil Khadka (20 thousand)
  FC Chitwan  
Defender Bikas Khawas (2 lakhs)
Defender Kuldeep Karki (120,000)
Midfielder Tech Budhathoki (120,000)
Defender Vikas Tamang (1 lakh)
Roman Rasaili (50 thousand)
Midfielder Shishir Lekhi (50 thousand)
Midfielder Manish Thapa (50 thousand)
Midfielder Rup Bahadur Lama (75 thousand)
Defender Amit Tamang (50 thousand)
Defender Simant Thapa (20,000)
Forward Rajiv Lopchan (50 thousand)
Goalkeeper Bibesh Chaudhary (20 thousand)
  Butwal Lumbini FC  
Midfielder Sesehang Andembe (130,000)
Defender Rabin Shrestha (120,000 – lucky draw)
Suraj Bik (1 lakh)
Defender Suraj Bik (1 lakh)
Midfielder Laxman Ruchal (50 thousand)
Defender Man Bahadur Pariyar (50 thousand)
Midfielder Laxman Ruchal (50 thousand)
Defender Ravi Thapa Magar (50 thousand)
Midfielder Amir Shrestha (120,000)
Midfielder Anil Maharjan (50 thousand)
Forward Ashish Lama (1 lakh)
Defender Chetan Kumar Tharu (20 thousand)
Forward Simon Dama (50 thousand)
Midfielder Jai Gurung (50 thousand)
Goalkeeper Shatrudhan Chaudhary (20 thousand)
  Dhangadhi FC  
Defender Dinesh Rajwanshi (2 lakh)
Rupesh KC (1 lakh 20)
Midfielder Vivek Basnet (120,000)
Defender Yuddha Shahi (75 thousand)
Defender Nirajan Maharjan (20 thousand)
Midfielder Yogesh Gurung (50 thousand)
Striker Vijay Shrestha (20 thousand)
Soujan Rai (20 thousand)
Defender Nishan Khadka (1 lakh)
Forward Tank Basnet (50 thousand)
Defender Ashok Khawas (75,000)
Goalkeeper Tekendra Thapa (50 thousand)
Midfielder Pujan Uparkoti (120,000)
Darshan Garung (1 lakh)
  Pokhara Thunders  
Goalkeeper Deep Karki (2 lakh)
Defender Ajit Bhandari (1 lakh)
Forward Anil Gurung (70 thousand)
Goalkeeper Ajit Prajapati (50 thousand)
Defender Deepak Gurung (120,000)
Forward Pravin Kumar Syangten (60 thousand)
Defender Man Bahadur Tamang (50 thousand)
Midfielder Sujal Shrestha (2 lakhs)
Defender Man Bahadur Tamang (50 thousand)
Midfielder Nitin Thapa (120,000)
Forward Rajesh Pariyar (120,000)
Defender Gautam Shrestha (75,000)
Read More: FIFA-world-cup-2022
Read More: Basic-skills-of-football-2020