PUBG New State Download on PC and Mobile  
PUBG: New State Whichever name you prefer, this is a new PUBG Mobile Battle Royale game set in the near future 2051 on the new map:
TROI. Featuring new futuristic style graphics, drones and deployable shields, electric cars, tech attachments, and more. You can literally see the bombs being dropped from the red zone now. Old gun sounds and skins from PC PUBG are used in the promo video.
It's PUBG but with a touch of Tron or the division. According to a report by IGN, PUBG: New State will support regions "excluding China, Vietnam, and India." New games in China/Vietnam require government approval. Since 2018, China's regulation has only gotten more strict.
The fact right now is why India is left out since Tencent has no hands on this project. This game is purely made in-house by PUBG Studio themselves. The game is available to Pre-register on GooglePlay and iOS at a later date on the official website. The presumption is that it's free to play.
The Reddit page and Discord page is up, and a public announcement will be made at a later date for these social media.
  Release Date For PUBG New State :  
The release date FOR PUBG: New State is slated for 2021, and may hear more info announced next week at the PGIS tournament that's currently happening. Currently, pre-registering grants you a Vehicle Skin. The pre-registration date starts February 25, 2021, and is going on "until official release" later this year, According to Krafton a device with Android6.0 and 2.5GB RAM should suffice.  It's for low-end mobile devices.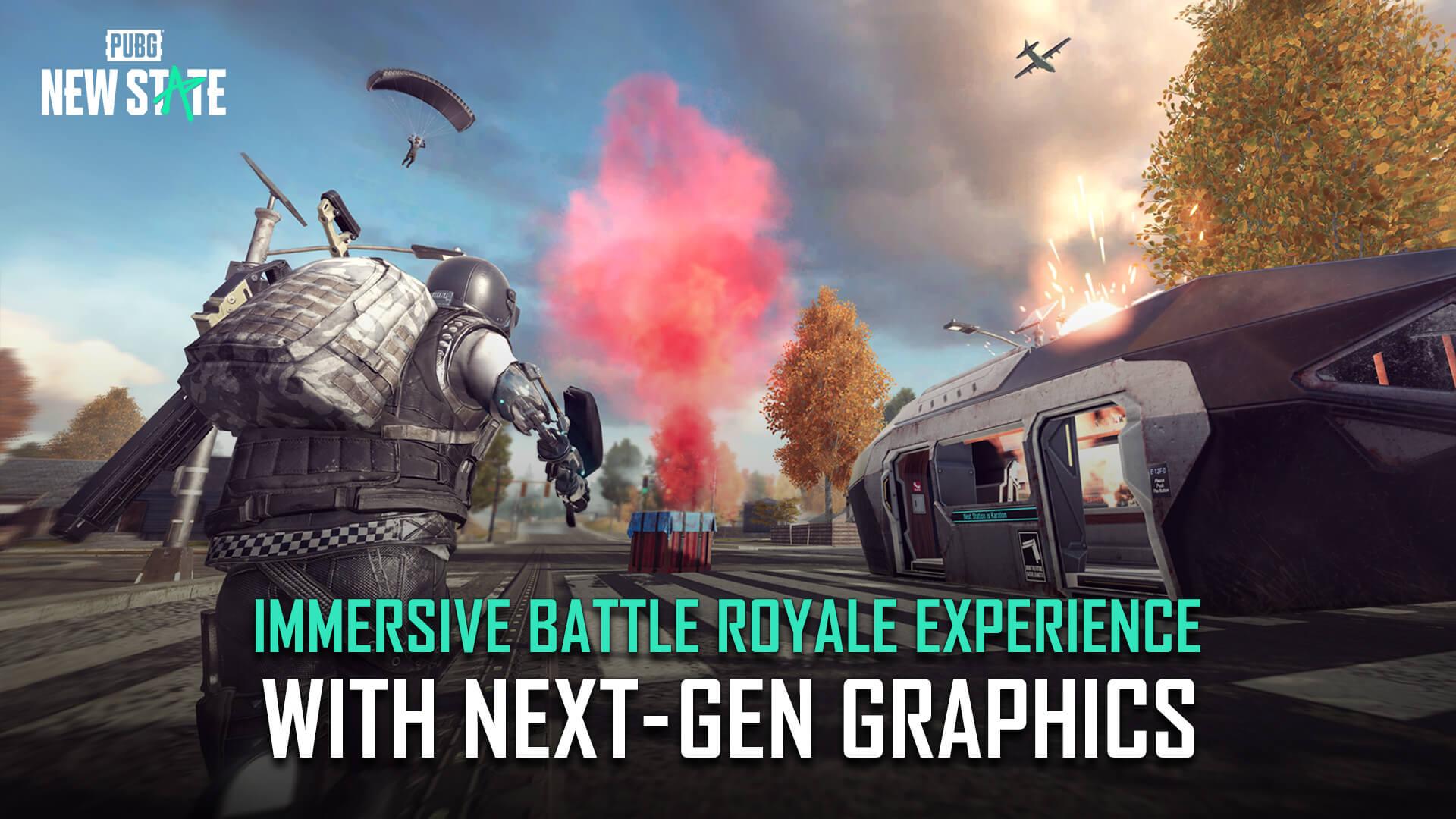 Based on the Google Play Store page expect TROI to be an 8×8 km map "with a variety of vehicles." Krafton says that the graphics for this game will surpass the standard of mobile gaming with Global Illumination technology. In addition to this new PUBG Mobile battle royale game, players are curious about my thoughts on PUBG 2 for PC Console.
  How to Download PUBG New State For Emulator PC:  
  Minimum Requirements For PUBG  New State: 
  For iOS Player:  
As you Know PUBG is an online multiplayer game so you must have a Good Internet Connection.
iPhone 5s, iPad2, or iOS 9 or above the user can run PUBG New State on Their Devices.
  For the Android Player:  
A minimum of 4 GB is needed to run this game on your Devices. A device with more than a 6 Version can Run this game easily.
This is the Easiest way to download PUBG without any types of issues. Only 2 Steps Needed to play PUBG on Mobile, Laptop.
  PUBG Download For Laptop/PC:  
If You want to Play this Game in Low Ping Then 
Click here.
To download PUBG New State on PC you should follow these steps.
To download and play PUBG: New State on PC, players must do the following:
1. Install a compatible emulator that bypasses the game's security checks.
2. Note that this may result in a ban and being blacklisted from the game, so it is not recommended.
3. Boot up the emulator and install PUBG: New State.
4. Once installed, load up PUBG: New State on PC.
5. Go into the settings and map the controls.
6. Play the game as normal.
For Example, Bluestacks
1. Open your Browser.
3. Now go on search game and search for PUBG New state.
4. Now you can enjoy PUBG New state on your PC.
If You want to Play PUBG Mobile Game in Low Ping Then Click here
  Is PUBG new state Free to Play?  
Yes, PUBG Mobile New State is free to play.
Currently, Chinese players play PUBG on International Steam "illegally." PUBG PC is still an unapproved game in China. Steam acts in a grey area allowing players to play games unapproved by China's government. With the future release of Chinese Steam, which blocks unapproved games, the fear is that China's government will Close access to Steam International in the future.
Hence, why I think the release of #PUBG 2 may be inevitable. You could literally not be able to play PUBG in China within the next 2 years. And losing half your player base is going to result in devastating consequences.
  PUBG New State Vehicle List   
Here is the list of vehicles found in PUBG New State:
1. Bike
a. Lighting
b. Vulture
c. Motor Bike
d. Motorbike sidecar
2. Buggy
a. Buggy
b. EV-AX
3. Car
a. Nova
b. Volta
c. Darcia
4. UAZ
a. Vrion
b. VrionT
c. UAZ
d. UAZ (Open)
e. UAZ (Cover)
5. Van
a. Electron
6. Boat 
a. Webrider
b. Boat
7. Aqua Rail
8. Motor Glider
The developers of the PUBG New State said that PUBG might cost $30 / £30 / around AU$40 onboard, there's any chance that PUBG: New State might be free to play and cost money to download in full or to buy Passes.
  FAQ  
1. How many GB did the PUBG new state take?
PUBG New State installation is around 1.4 GB. A minimum of 4 GB is needed to run this game on your Devices. A device with more than a 6 Version can Run this game easily.
2. Will there be an aim assist setting in PUBG mobile new state?
There will be aim assist setting same as like as PUBG Mobile which you can choose according to your choice.
3. PUBG New State Download on PC and Mobile How?
You can download it on android through the play store but you need bluestacks to download Pubg New State.
4. Can I need to change my server to pre-register for PUBG's new state?
Yes, we can change our server as same as in PUBG Mobile. For example, if you are Indian then you can make it a south Asia server by choosing an inside the game.
5. PUBG's new state vehicle name list?
Here is the list of vehicles found inPUBG New State:
1. Bike
a. Lighting
b. Vulture
c. Motor Bike
d. Motor Bike side car
2. Buggy
a. Buggy
b. EV-AX
3. Car
a. Nova
b. Volta
c. Darcia
4. UAZ
a. Vrion
b. VrionT
c. UAZ
d. UAZ (Open)
e. UAZ (Cover)
5. Van
a. Electron
6. Boat 
a. Webrider
b. Boat
7. Aqua Rail
8. Motor Glider